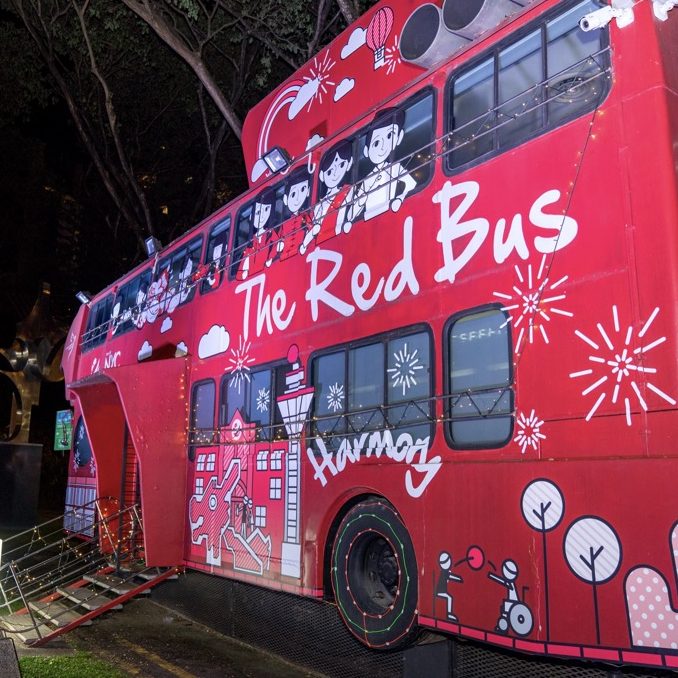 Harmony Mural beneath the stars
6 local and international students from Nanyang Academy of Fine Arts embarked on an experiential journey to learn about Singapore's multicultural diversity through the elements of food, culture and play.
For three days, these students explored places of racial and religious interests, such as the Harmony in Diversity Gallery, a Crisis Simulation tour at the Singapore Discovery Centre, the SAFTI Bus Tour at the Military Camp, as well as Katapult Trampoline Park and SCAPE.
These experiences turned into design inspirations for Harmony Mural Beneath the Stars, an initiative supported by Youth Corp Singapore to create an artistic mural set out to transform the façade of the iconic Red Bus located at the Youth Park Singapore.
Ms Low Yen Ling, Senior Parliamentary Secretary, Ministry of Education & Ministry of Trade and Industry unveiled the new look of the Red Bus on 4 July 2017 – an illustrated masterpiece that reflects Singapore's cultures, races and religions.
The Harmony Mural was specially unveiled in the month of July to coincide with both the Harmony Month as well as the Youth Month, which is dedicated to celebrating youth energy and diverse talents, youth resilience and youth contributions to community.